This week on LawAndCrime.com I discussed the tragic case of 4-month old baby Sterling with criminal defense attorney Jerry Girley from Florida. Baby Sterling was killed in Iowa, allegedly at the hands of his parents, Zachary Koehn and Cheyanne Harris. In covering the case, I listened to the testimony of first responders recounting to the jury the odor they encountered when they entered little Sterling's household. The urine stench seemed almost overpowering. The air freshener couldn't snuff out the smell of death.
The deceased baby was found in his swing, the switch turned to 'on'. The responders couldn't even administer CPR because his limbs were cold and his toes crusty. The child had not been bathed or changed or fed in over a week. Maggots were apparent.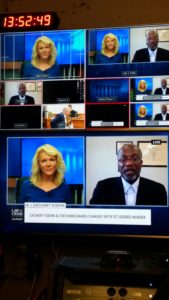 Jerry and I discussed the prosecution of Sterling's father for first degree murder (his mother will be tried in a later trial). We talked about possible defenses of mental illness. The prosecution's opening, however, focused on Sterling being a "blessing" and his parents having failed in their responsibility to this vulnerable baby. The defense attorney urged the jury not to "rush to judgement." Jerry and I analyzed all of the arguments in real time.
As tragic as Sterling's fate is, it is made even more tragic because he is not alone. Not even close. The Child Protective Service Agency estimates that 4 to 5 children die every day in the U.S. as a result of abuse and neglect!
Every year, 3.6 million referrals are made to child protection agencies involving more than 6.6 million children. Studies (and basic common sense) indicate that there is a significant underreporting of child mistreatment. Many people will be reluctant to report on loved ones, even if another loved one is in danger. Or it may be that a parent or parents need mental or emotional care, if, for example, they are suffering from post-partum depression.
The first step towards positive change is to keep recognizing child endangerment or abuse for the tragedy that it is. If you see a child in danger, do something. Make a call to The National Child Abuse Hotline (1-800-422-4453 or 1-800-4-A-CHILD). It really may be the phone call that saves a child's life.